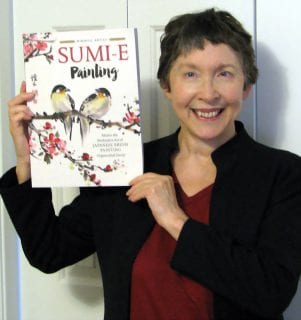 Virginia Lloyd-Davies
Born in Washington, DC of British parents, Virginia Lloyd-Davies grew up in Britain and France. As an adult living in New York City she studied sumi-e and mindfulness meditation. She painted in black ink for ten years until she moved to Lexington, VA in 1986 and became apprenticed to master painter I-Hsiung Ju. She accompanied Professor Ju on many trips to China and Taiwan, where she studied with master painters and exhibited her paintings. She became good friends with many members of the Sumi-e National Capital Area Chapter on these trips and at Professor Ju's Art Farm. She has frequently demonstrated live on television in the US, Europe and China and her paintings are in collections around the world. She has taught workshops at universities, clubs and societies in the United States and Britain.
Her website www.joyfulbrush.com features her flower, bird, animal and landscape paintings, her blog and many mini-tutorials and videos. It also features galleries of paintings by Prof I-Hsiung Ju. Her YouTube painting channel (www.YouTube.com/virginiald) is over four and a half million views. She is the author and illustrator of the book "Mindful Artist: Sumi-e Painting" published by the Walter Foster imprint of Quarto Books (2019).
Because she has studied both sumi-e and Chinese brush art and travelled extensively in Europe and Asia, the artist's personal style is an amalgam of those experiences. As a lifelong dancer and singer, she is frequently struck by the relationship of rhythm, melody and harmony in the execution of brush strokes.
The artist lives in the USA, in the State of Virginia with her husband Dennis DiVito. She is an anal cancer survivor and urges everyone to get regular colonoscopies so they can have many more healthy years to paint.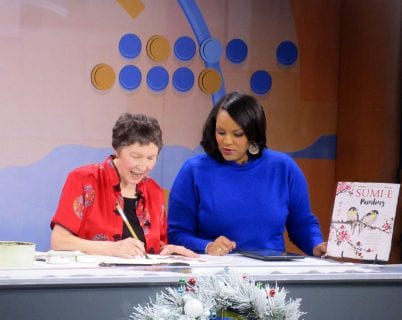 Virginia Lloyd-Davies Homepage
Virginia Lloyd-Davies Facebook