Susan Frame's Demo – Playing With The Ink & Happy Accidents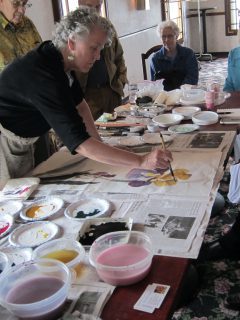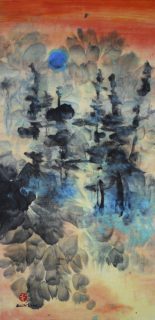 NCAC Chapter Meeting / Painting Demo – May 2021
Susan Frame was our guest artist giving a painting demonstration at our November Chapter Zoom meeting. She is a painter, calligrapher, poet, author and teacher. She is also a long time member of the Sumi-e Society of America and a winner of numerous painting and calligraphy awards. In 2019 we were treated with a workshop with Susan. Her workshop was so well received that we have asked for a return demonstration. Susan is known for her unique approach of combining traditional Sumi-e with the abstract. Her "playing with the ink", water and brush result in ethereal paintings of landscapes and flowers. She uses "happy accidents" to her advantage for the inspiration for her paintings. Susan will develop a splash/poured painting using a prepared background of color and mineral pigments.
Bok Kim's Demo – Bamboo Painting and Pillow Covers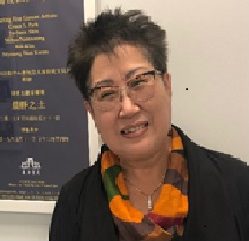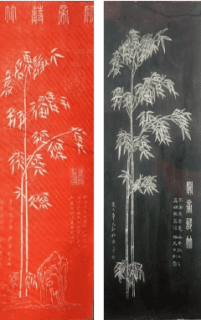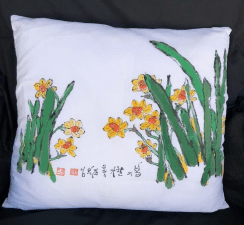 NCAC Chapter Meeting / Painting Demo – May 2021

Following the Chapter meeting was a demonstration by Bok Kim, a member who is a multi-talented artist and teacher. She demonstrated a bamboo painting and other painting techniques on the cotton throw pillow covers (cushion) with the Dye-Na-flow. Since 2002, Kim has Solo and Group Exhibitions, at Maryland/DC area locally, nationally and internationally in Korea, China, Canada, and Paris. She has won numerous awards and recognition for her paintings.
Hsi-Mei Yates' Workshop – Koi and Lotus
February 2021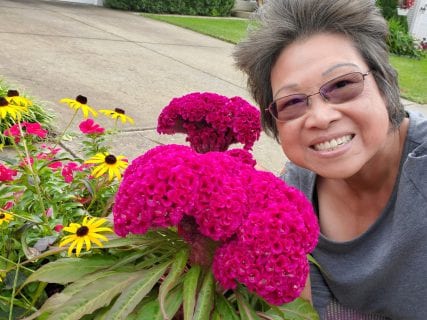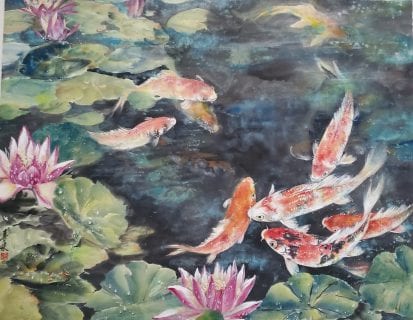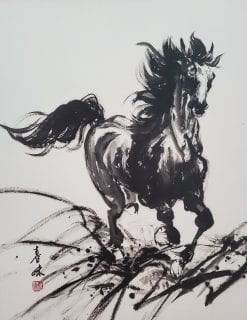 Hsi-Mei's Sumi-e and watercolor style are observed from life and then use art to celebrate nature's beauties. She was born and raised in Taipei, Taiwan. She has in love for nature and had an affinity for art since early childhood. Her skills led her to be hired as a designer by the China Art Company, known internationally for its exquisite hand-painted ceramics.Hsi-Mei further developed and refined her techniques and  painting skill through individual study and  under the tutelage of many renowned Chinese artists. She studied the brush stroke of the flowers and the birds with Chao Sung- Ch'uan (趙松泉) and Tu Teng -Yin (杜簦吟, Landscapes with Shu Feng-Nan (蘇峯南), Bamboo teacher Chung Shou- jen(鍾壽仁). In 1983 Hsi-Mei entered the United States and then continued her art adventures. She has taught in Washington state, North Carolina, Texas, Maryland and Virginia for over 30 years.
You can find her work in North Carolina at handscapes gallery. She has a studio in the Old Town Fredericksburg called Liberty Town Arts Workshops studio 23.
www.libertytownarts.com
Art Online Workshops & Virtual Classes
by
Joan Lok
Joan Lok discussed the Chinese Red Ink Paste (Yin Ni), including its ingredients, how to store it, and the three most famous brands.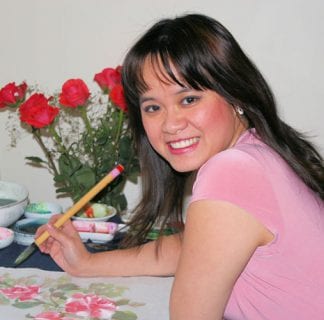 Joan has also converted her workshops into online learning. The painting process is broken down into easy-to-follow videos where you can pause, go practice, and watch again.
Oriental Brush Strokes
by
Charlene M. Fuhrman-Schulz
Charlene teaches Traditional Chinese Brush Painting and Contemporary Watercolors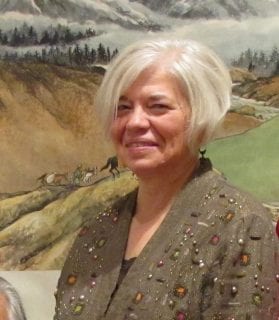 For future workshops and demonstrations, please go to
Website: http://www.orientalbrushstrokes.com or
Facebook: http://www.facebook.com/Oriental.BrushStrokes?ref=hl
Fine Art America: http://fineartamerica.com/profiles/charlene-fuhrman-schulz.html
VIDA: http://shopvida.com/collections/charlene-fuhrman-schulz
Elan article – see page 48: http://digitaleditions.sheridan.com/publication/?i=308684
Every artist dips his brush in his own soul, and paints his own nature into his pictures. 

Members and their art at Susan Frame's workshop in 2019